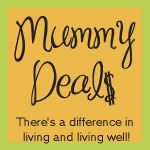 mummydeals.org
is featuring your very own Meal Planning Mommies! During this week, Clair from mummydeals is doing a segment on meal planning. She asked if we would mind guest posting and we said WE WOULD LOVE TO! As meal planning mommies, one of our goals is to remind families across the world how important family meal time really is! As a meal planning mommy, meal time is less stressful and so much more fun if you plan ahead.

Mummydeals.org
is a blog started by
Clair
who's main goal is to help others save $$$, without spending tons of time doing it. I personally found mummydeals about a month ago and I check it daily to see what deals are posted. If you want to learn more about how to save $ while spending frugally, you have got to check out her blog. It Rocks!
Be sure to check out
mummydeals.org
everyday this week to read more about what your Meal Planning Mommies have to say about Meal Planning!